Handmade African Jewelry
Posted on
Handmade African Jewelry are on trend as they provide a welcomed alternative to the usual boho chic jewelry. because they cover a wide range of black or Africanculture they are very distinct types of jewelry. Southern Africa is well known for it use of very small but brightly colored beads in its jewelry. Whilest Eastern Africa jewlery is dominated by the use of horns, bones and plant husks. West African handmade jewelry on the other hand is an infusion of beads and fabric.
Handmade African Jewelry are the quintessential mark of Statement African Jewelry for a number of reasons. They can be elaborate and possess very intricate patterns, making them one of a kind pieces that can be handed down from generation to generation.
Usually made from African Print or Ankara as they are popularly known, a single print can have a variety of colours and patterns. African Print are multicoloured and can be of plants, flowers, geometric shapes or designs. This feature means that whatever the fabric is used for can become a unique piece of jewelry.
This also means each Handmade African Jewelry can be styled with multiple outfits based on the colour palette, or the nature of the design.. They also tend to be versatile as they can be worn from day to night, dressed up or dressed down.
For instance the button cape pictured below can be worn over a bikini at the beach or over a simple slip satin evening dress and on each occasion it provides the wow factor but its equally suitable for the ocassion.
Handmade African Jewelry are the epitome of sustainable and ethical fashion. A variety materials can be used to make these one of kind pieces including fabric clippings, beads, shells, rope, coconut shell and wood. These materials can be woven and sewn and easily manipulated to create earrings, necklaces, bangles and eclectic statement jewelry.
Extravagant or simple what ever your preference in Handmade African Jewelry is Kelis Africa has them both. Kelis Africa Handmade African Jewelry has simple one strand pieces of necklace or earinngs which reflects ones sense of style and appreciation of unique jewelry.
On the other hand we provide Handmade African Jewelry which command attention and exhudes confidence. Our statement pieces include very elaborate neckwear in gold, red, black, orange, blue etc. Although they are elaborate and may include mixture ot materials like buttons and beads they are very light and therefore can be worn for long hours . These Handmade African Jewelry do not require much care except we advise that they not he submirged in water or slept in.
Have a look through some of most amazing Handmade African Jewelry that we have on our site.
Our two bestsellers are the Ankara Gem Necklace and the Button Capes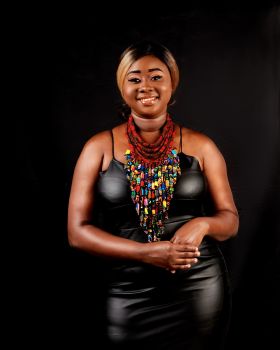 Button Cape Ankara Gem Necklace